10 CURLERS FROM THE CAPITAL WINTER CLUB WILL HURRY HARD IN AN EFFORT TO CAPTURE THE LONGEST MARATHON CURLING GAME WORLD RECORD WHILE RAISING MONEY FOR YOUTH MENTAL HEALTH.
Kingswood's Director of Golf, Chris Billings, Fredericton Golf Club President, Wayne Tallon and member Steve Burns, and Golf NB Executive Director Tyson Flinn are joining fellow Capital Winter Club members Chris Schnare, Stephen Muzzerall, Kevin Larlee, Geoff Maybee, Mike Jennings, and Paula Emery as the group attempts to set a new "Longest Marathon Curling Game World Record" in support of Youth Mental Health in the Fredericton area.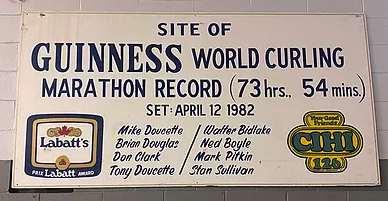 Inspired by the success of a group of Capital Winter Club curlers (Mike Doucette, Brian Douglas, Don Clark, Tony Doucette, Walter Bidlake, Ned Boyle, Mark Pitkin, and Stan Sullivan), who established a new World Record of their own, at 73 hours and 54 minutes, on April 12th, 1982, the newest set of Fredericton Record seekers will be attempting to take down the current mark of 105 hours, 6 minutes and 51 seconds, belonging to a group of curlers in Ontario.
The two five-player teams will start play at 6:00 PM on Monday, November 15th, and wrap up 120 hours later at 6:00 PM on Saturday, November 20th, just in time for the Capital Winter Club's 60th Anniversary Dinner.
In addition to establishing a new World Record, the group is attempting to raise $1,000 for each hour of curling completed in support of Youth Mental Health in the Greater Fredericton Area. "No one should ever have to wait to talk to someone when they need to, especially based on financial need", says Steve Burns, one of the primary organizers of the event along with Chris Schnare. "Hopefully the money we raise will help and bring some awareness to resources for our youth. If we can hit our target of 120 hours for this record, we could raise $120,000."
For more information on the "Longest Marathon Curling Game World Record" or to donate, please visit www.cwccares.ca.
Tax Receipts are available for donations of $20.00 or more.