Dwayne Tingley
Michel Landry is savoring the challenge to make New Brunswick golf history.
The 37-year-old member of the Fredericton Golf Club is looking to become the first player to win five New Brunswick Men's Amateur Championships, when this year's tournament is played July 15th-17th at the West Hills Golf Course in Fredericton.
The tournament, supported by official equipment supplier Taylormade Golf Canada, has attracted a capacity field of 156 players.
It will also be the first time the club has hosted the event.
"I've finished second before and that really hurts so I don't dwell on those tournaments," said Landry, a Tracadie-Sheila native who has lived in Fredericton for five years.
"Personally, I feel like I play better in the bigger tournaments like this," he added. "There are a lot of stronger players and they bring out the best in my game."
Landry, a corporate financial advisor with Grant Thornton LLP, captured last year's championship in a playoff with Danek Hadley of Gowan Brae, on his home course in Bathurst, while Stewart Earle of Westfield was just one shot back.
"It was a battle all day long and there wasn't much breathing room," said Landry, who also won the Golf New Brunswick player of the year title.
"My heart race was up all day, but I was able to bring it down with some good putting."
The top three finishers in the overall competition will represent New Brunswick at the Canadian Amateur Championship, sponsored by BDO, Aug. 1-4 at the Seymour Golf & Country Club and Point Grey Golf and Country Club in Vancouver.
Landry also won New Brunswick championships in 2002, as a 17-year-old at Aroostook Valley, 2016 at Kingswood, and 2019 in Edmundston.
Andy Dickison of The Riverside Club won four straight New Brunswick titles between 1981-85.
Landry played at the University of Denver and the University of New Brunswick and was a member of the Canadian National Team for a few years.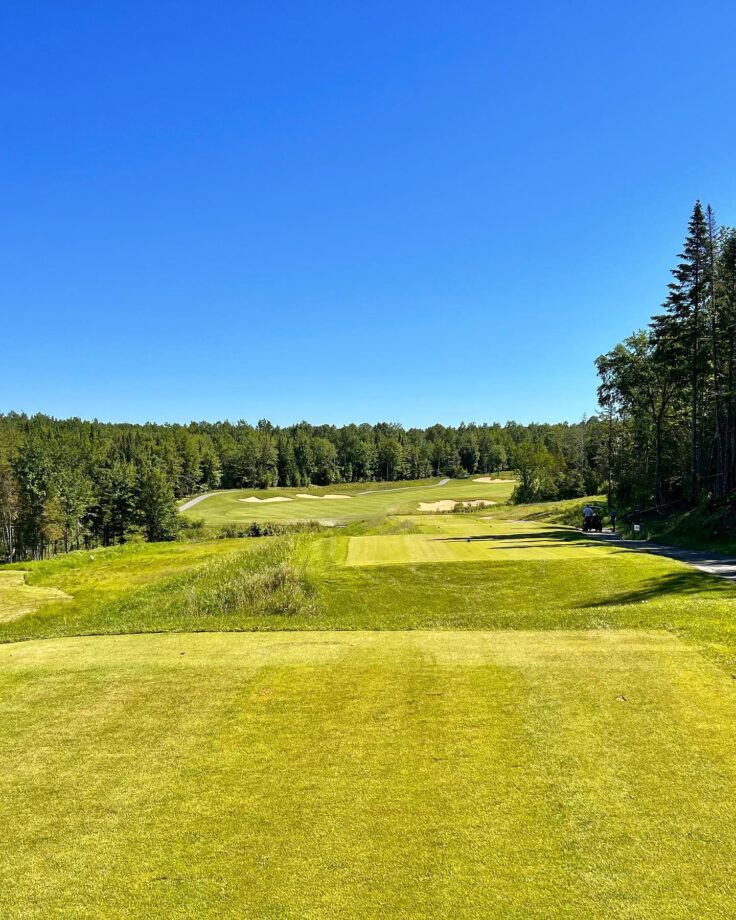 Landry hasn't played West Hills often, but he knows the par-72 layout on Fredericton's north side knows it has some tight fairways and several undulating greens.
"There are going to be some two or three-iron shots that could make the difference on that course.
"I'll get some practice rounds in and I still enjoy playing, but I don't want to miss time with my family," said the father of two young girls.
Landry, Brett Taylor of The Riverside, and Francois Hebert of Memramcook were the top three finishers in the mid-amateur division last year.
Taylor, who was also fourth in the amateur, will not be competing this year.
Hebert, who was fifth on the amateur leaderboard, has set his sights on both the amateur and mid-amateur crowns.
"I have never played at West Hills, but I hear it is tight and narrow," said Hebert, a 29-year-old flight attendant.
"I don't hit the ball as far as some of the main guys, but I can keep the ball in play and score well," he added.
"I've been in contention in the past and I want to take the next step forward this year."
Hebert, who won the midget title at the East Coast Junior Championships in 2007 in Bouctouche, is motivated by the memory of his grandfather, Edgar Landry, who died two years ago.
"He would take me the course after school so I could practice almost every day," said the Memramcook native.
As an amateur, Hebert made the cut at a PGA Tour Canada event last year on Prince Edward Island.
"I know that I can compete if I can just be consistent and stick to my strengths," he said.
This year's Canadian Mid-Amateur Championship, presented by BDO, is scheduled for Aug. 23-26 at The Thornhill Club in Thornhill, Ont.
The champion of the 2022 NB Men's Amateur will be granted an exemption into the PGA Tour Canada, 2023 Prince Edward Island Open.
Golf New Brunswick Executive Director, Luke Lacey said under the direction of Superintendent Adam Fletcher and Director of Golf Brett Wilson, West Hills has "established itself as one of the province's premier golf courses."
For more information on the 2022 NB Men's Amateur Championships, including results and tee times, please CLICK HERE.
For more information on West Hills please visit: CLICK HERE
Golf New Brunswick (Golf NB), a not-for-profit organization founded in 1934, is the official governing body for amateur golf in New Brunswick. In January of 2006, the New Brunswick Golf Association (NBGA) officially merged with the New Brunswick Ladies Golf Association (NBLGA), resulting in one united governing body for amateur golf in the province. Programs offered by Golf NB to its 50 partner facilities and 7,900 individual members include provincial championships, rules of golf education, course rating and handicap services, and junior golf development programs.